Location: London – 2022
Client: Creative Technology, UK
System: x19 Player_3
Sector: Immersive Galleries / Experiential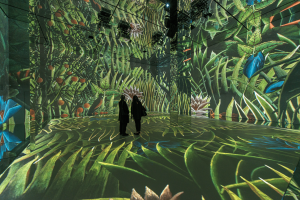 Situated in the new Marble Arch Place Complex Venue, Frameless London blends digitalised art, phenomenal creative vision, and cutting-edge entertainment technology to present a cultural attraction like no other. Digital interpretations of 40 masterpieces from 28 artists including Klimt, Monet, Rembrandt and van Gogh lead visitors through the carefully curated spaces; Beyond Reality, Colour in Motion, The World Around Us and the Art of Abstraction.
The project sits at the intersection of the worlds of tech, art, architecture, and experiential events, showcasing iconic works of art as they've never been seen before – via immersive, state-of-the-art video projection.
The solution relies on a total of 19 Player_3 HIVE systems – all perfectly synchronized and supported by 4K and 8K Media players and augmented by 50 3-Chip DLP of Panasonic laser projectors, which helped to deliver 479 million pixels and one million lumens.
Utilizing the latest embedded GPUs developed by NVIDIA, HIVE was able to offer Frameless outstanding performance in a small package at an enviable price point, with no compromise on quality. Simon Kentish, Frameless CTO, says: "HIVE's value for money is amazing in terms of its delivery, its form factor, and its integration with products like Screenberry. It's right for us, and we'll be using it moving forward."
Green reflects on Frameless' hugely successful reception: "It's not until the venue opens, and you see the public immersed in the experience, that you really understand what was being created. HIVE is so proud to have worked alongside such experts on a project assembled by a world-class team; the results speak for themselves."
With special thanks to: Frameless, Creative Technology, Five Currents, Luke Halls Studio & Panasonic-Connect
It wasn't just understanding the final playback, which is ultimately the result of all this hard work, but the relationship that CT built with HIVE was essential for success; we understood at every stage what the technical challenges were going to be.

Graham Bunyan, Head of Integration, CT UK